Music Listening in Finland 2023: Finns are aware of the expansion of artificial intelligence to the music industry, but their sympathies are with the artists and music authors
18.10.2023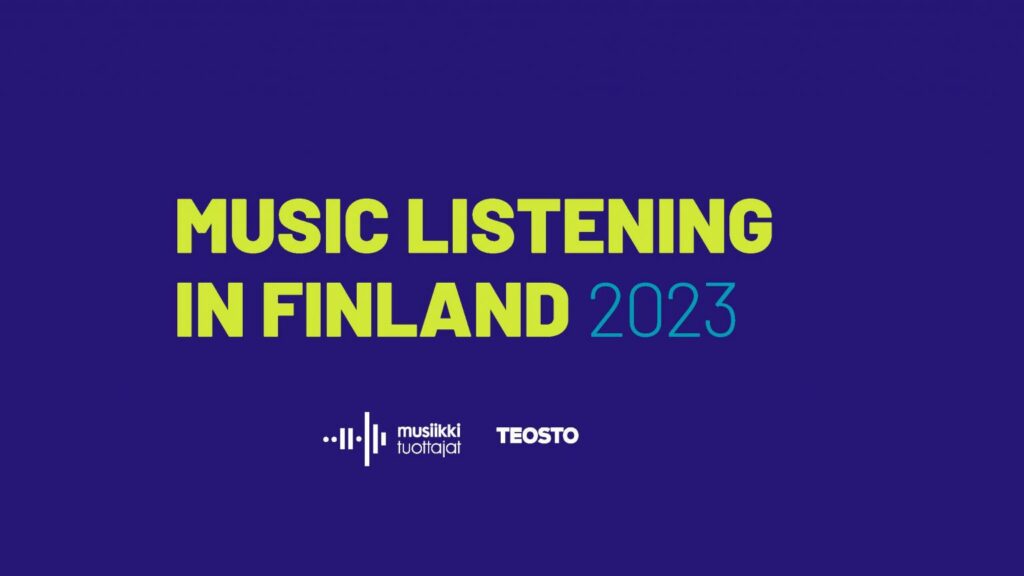 According to Teosto and Musiikkituottajat – IFPI Finland's Music Listening in Finland 2023 survey, Finns had a fairly negative view of technology trends entering music, but attitudes are more relaxed in 2023. More than one thousand 13–75-year-olds, of whom most were aged 13–18, responded to the survey in Norstat's consumer panel in August 2023.
The use of artificial intelligence in music has increased rapidly over the past few years when it comes to music inspiration, creation and performance. Only three years ago, Finns had a fairly negative view of technology trends entering music, but according to the Music Listening in Finland 2023 survey, attitudes have become more relaxed.
"Even though AI has developed in a very short time and plays an increasingly important role in people's everyday life, our survey shows that Finns still want to defend human authors," says the survey's lead researcher Kari Tervonen from Omnicom Media Group.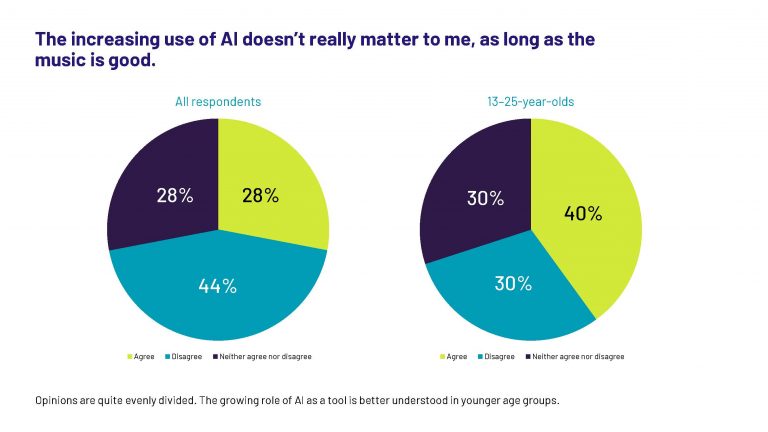 Finns' idea of the future growth of the share of music created by machines is divided: Thirty-seven percent of Finns do not believe that there will be growth, but up to 30% believe that there will be more AI music in the future. However, 64% of respondents in all age groups and 46% of 13–25-year-olds think that only music made and performed by real people is real music. More than half of respondents are concerned about the future livelihoods of human music authors because of AI. However, up to 40% of those who play a musical instrument are interested in the opportunity of editing music using AI.
AI can already be used to make new versions of famous songs
In early 2023, a new trend started on TikTok where the vocals of other artists were added to famous hit songs using AI. After this, AI imitation has become an everyday thing on TikTok, and Finnish content creators have also started using it. The Music Listening in Finland 2023 survey asked for Finns' wildest suggestions on which song and which artist's voice and style they would like to combine using AI right now. About 75% of respondents understood the question and submitted a suggestion.
The list of artists suggested was very similar to the list of the most popular artists in recent years. Half of the suggestions made by the respondents were quite funny: someone wanted to hear Irwin perform Genesis songs, while others suggested a more obvious artist and song combination, such as "Layla by Jimi Hendrix". The examples also cross-pollinated Finnish and foreign chart hits.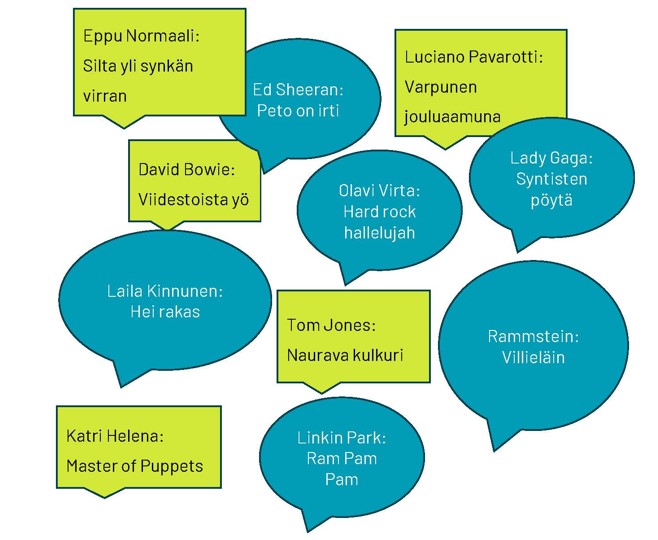 "Despite AI becoming more commonly used, AI versions are still quite lacking when it comes to nuance. For this reason, the future scope of the phenomenon is still difficult to predict and estimate," Kari Tervonen says.
Read the entire report here
Teosto and Musiikkituottajat – IFPI Finland's Music Listening in Finland 2023 survey provided information about changes in Finns' music listening habits over the longer term for the 10th time. The researcher was Kari Tervonen, Omnicom Media Group's Roadmap Director, supported by Johanna Laitinen and Susanna Perämaa from Teosto and Tommi Kyyrä from Musiikkituottajat – IFPI Finland. The results of the survey were presented at the Music x Media event for professionals in Tampere on 6th of October 2023.

For further information, please contact:
Roadmap Director Kari Tervonen/Omnicom Media Group
tel. +358 (0)50 437 0677
kari.tervonen@omnicommediagroup.com
Communications Manager Johanna Laitinen/Teosto
tel. +358 (0)40 192 1900
johanna.laitinen@teosto.fi
Customer Experience Manager Susanna Perämaa/Teosto
tel. +358 (0)40 558 8023
susanna.peramaa@teosto.fi
Deputy Director Tommi Kyyrä/Musiikkituottajat – IFPI Finland ry
tel. +358 (0)50 566 422
tommi.kyyra@ifpi.fi