Global recorded music revenues grew 18.5 % in 2021
22.3.2022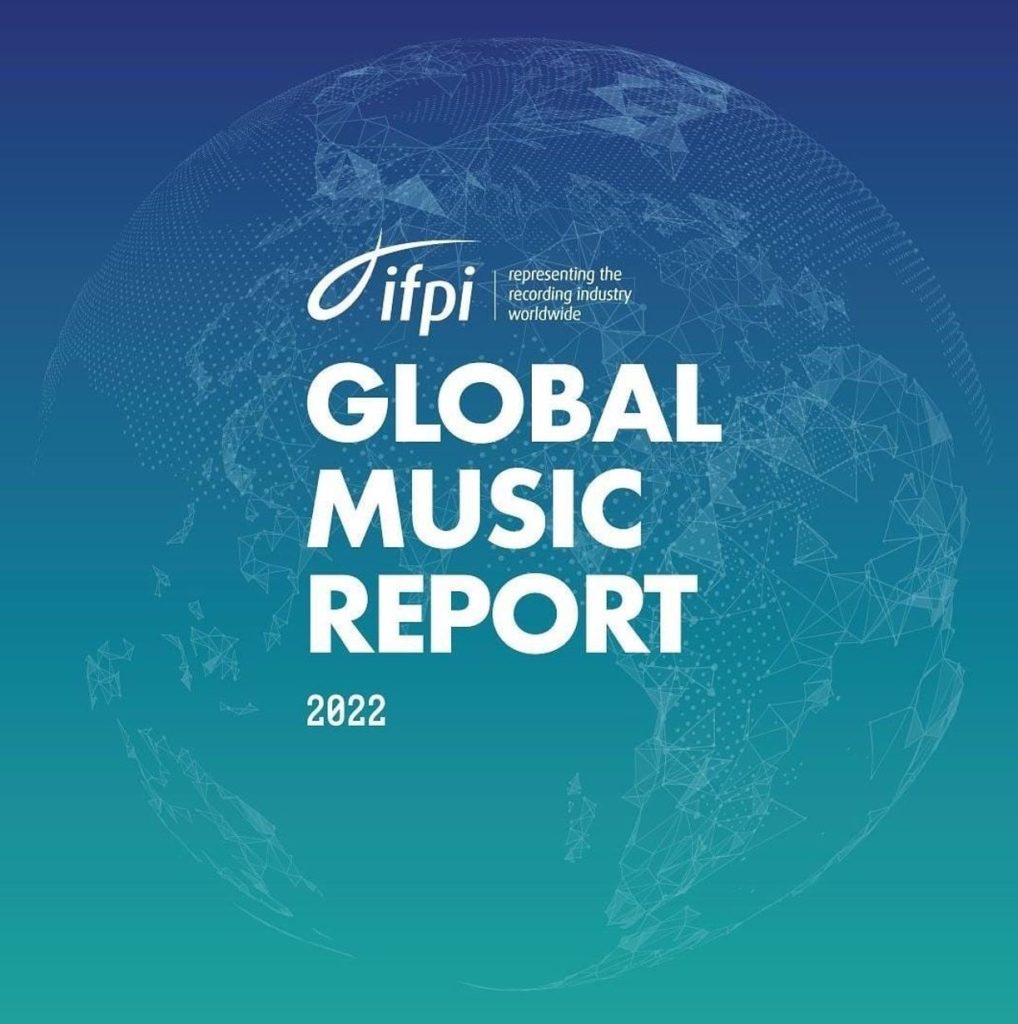 IFPI GLOBAL MUSIC REPORT:
GLOBAL RECORDED MUSIC REVENUES GREW 18.5 % IN 2021
Read IFPI's Global Music Report – State of the Industry 2022 here
22nd March 2022 – The global recorded music market grew by 18.5 % in 2021, driven by growth in paid subscription streaming, according to IFPI, the organisation that represents the recorded music industry worldwide. Figures released today in IFPI's Global Music Report 2022 show total revenues for 2021 were US$ 25.9 billion.
Paid subscription streaming revenues increased by 21.9 % US$ 12.3 billion.  There were 523 million users of paid subscription accounts at the end of 2021.
Total streaming (including both paid subscription and advertising-supported) grew by 24.3 % to reach US$ 16.9 billion, or 65.0 % of total global recorded music revenues. In addition to streaming revenues, growth was supported by gains in other areas, including physical formats (+16.1 %) and performance rights (+4.0 %).
Record companies are working to drive this continuing growth for the broader music ecosystem. With local teams and expertise around the globe, they invest in local artists and genres and support their development. In high-potential growth markets across Asia, Latin America and Africa, as well as more mature markets, like Europe and North America, labels are putting down deep roots and helping to foster the continued advancement of vibrant and diverse local music ecosystems.
Opening a press conference in London to unveil the report, IFPI Chief Executive Frances Moore expressed concern regarding events in Ukraine and the resulting humanitarian crisis, saying: "IFPI stands with our colleagues across the music community in our support for urgent humanitarian relief for refugees and our call for an end to the violence."
Commenting on the Global Music Report, Moore continued: "Around the world, record companies are engaging at a very local level, to support music cultures and bring on the development of emerging music ecosystems – championing local music and creating the opportunities for it to reach a global audience. As more markets mature, they join with and contribute to the rich, globally interconnected music world.
"Consequently, today's music market is the most competitive in memory.  Fans are enjoying more music than ever and in so many different and new ways.  This creates enormous opportunities for artists. Those who choose to partner with a record company, do so to benefit from the support of agile, highly responsive global teams of experts dedicated to helping them achieve creative and commercial success and build their long-term careers.
"As technologies and the online environment continue to evolve and expand, so too do the creative opportunities to share music experiences.  From the metaverse, to in-game content, record companies have invested in the people and the technologies to deliver new, highly interactive experiences – adding to the evolving ways for artists to make connections with their fans."
Growth in the world's other regions:
Recorded music revenues grew in every region around the world in 2021:
Asia grew by 16.1 %, with its largest market, Japan, seeing growth of 9.3 %. Excluding Japan the region experienced a 24.6 % climb in revenues. In a continuing trend, Asia also accounted for a significant share of the global physical revenues (49.6 %).
Australasia experienced growth of 4.1 %. Australia (+3.4 %) remained a top 10 market globally and New Zealand saw a rise in streaming revenues push the overall market to growth of 8.2 %.
Revenues in Europe, the second-largest recorded music region in the world, grew by 15.4 %, a steep increase on the prior year's growth rate of 3.2 %. The region's biggest markets all saw double digit percentage growth: UK (+13.2 %), Germany (+12.6 %) and France (+11.8 %).
Latin America saw growth of 31.2 % – one of the highest growth rates globally. Streaming accounted for 85.9 % of the market, one of the highest proportions in any region.
Middle East and North Africa – split out as a separate region in the Global Music Report for the first time – experienced growth of 35.0 %; the fastest regional growth rate globally. Streaming was a particularly strong driver in the region, with a 95.3 % share of the market.
Sub-Saharan Africa – also split out for the first time in IFPI's reporting – saw revenue growth of 9.6 % in 2021, largely driven by streaming. Ad-supported was particularly strong in this region, with revenues from this format growing by 56.4 %.
The US & Canada region grew by 22.0 % in 2021, outpacing the global growth rate. The US market alone grew by 22.6 % and Canadian recorded music revenues grew by 12.6 %.
Download the free Global Music Report 2022 – State of the Industry report (English language) here.
IFPI Global Music Report 2022: Full Report – with Data and Analysis: Purchase the full data and analysis report here.
About IFPI
IFPI is the voice of the recording industry worldwide, representing over 8,000 record company members across the globe. We work to promote the value of recorded music, campaign for the rights of record producers and expand the commercial uses of recorded music around the world.
For further information please contact:
press@ifpi.org | +44 (0)20 7878 7979